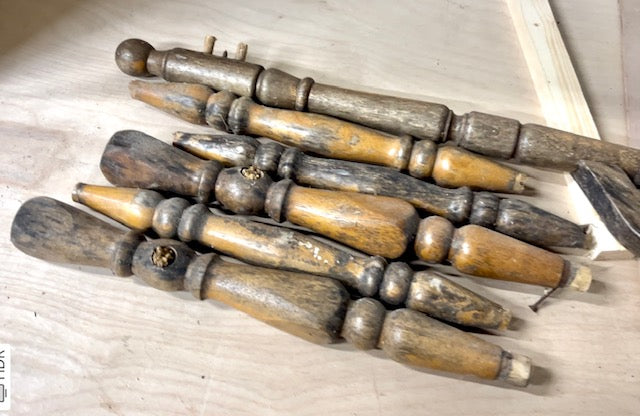 Upcycling Wooden Spindles into Christmas DIY Home Decor to Sell at Vintage Markets 2023
Upcycling Wooden Spindles into Christmas DIY Home Decor to Sell at Vintage Markets
How many times do you drive by a pile of broken pieces of furniture, a great chair, or coffee table, and wish that you could have gotten there before they were broken, or water damaged, to bring new life to them. Well, maybe you can't put them back how they were before, but you can give them new life and make a little profit on the side. Sometimes the best projects can come directly from broken furniture pieces, especially if they have great spindles!
Interested in DIY Home Decor?
Come check out our YouTube Channel! 
Creating Spindles out of Broken Furniture
Dismantling the broken chairs, tables, cribs, or other furniture is typically pretty easy with a hammer, mallet, jigsaw, and muscle power. Once you have everything in pieces, is when the fun begins. 
Making Christmas Snowman Ornaments from Broken Chair Spindles 
The most unused part of broken chairs and tables is often the slender, skinny parts with few curves or interesting design. Believe it, or not, these make great snowmen! All you will need is a bead that is in proportion to the base. In this case, we used 1.5" beads that were taken off of bead garland that no longer sell for us (more upcycling). We'll use the smaller beads for other projects later. 
The head and spindles were painted with Fusion Mineral Paint, in the color Champlain. Fusion is great for this project because it is an all-in-one (primer, paint, and top coat). This means that you won't need to seal your piece when you are done with the face, buttons, etc. 
Pushing some red ticking homespun fabric, through the head, makes for an easy hanger and scarf, all in one. 
The next step is simply to glue on the body, add some face and body decor, and you've got a handful of really cute snowman. We are pricing ours at $8.95 each, but you should price based on what your markets can bare. (Eyes & Buttons are painted with Dixie Belle's Silk all-in-one Mineral Paint in the color Black Sands. Nose is painted with an orange fine tip permanent marker. Eye & Cheek dots are with Fusion mineral paint, Champlain. Cheeks are actual blush.)
Making Mini Christmas Trees from Spindles & Garland / Tree Branches
This is another great use for odds and ends of spindles and smaller parts of broken furniture bits. You might remember my lavender mini plants, from early spring. This is going to be similar to that project, but for the holidays instead. 
Last year, before market season, I cut up a thrift store Christmas Tree. I removed all of the excess branches, so that it would just have the arms sticking out, to hold Christmas Ornaments as display. 
This process left A LOT of small cut offs. (Literally a large Uhaul box full.) I'm determined that these cannot be in my stash forever, so I got creative. 
In the photos below, you can see how to shaped the scraps into different tree shapes, then attached into a hole in the spindle top. I added a bit of Spanish moss, and in a few cases, a piece of fabric. I think these came out just charming, perfect for small vignettes, like tiered tray decor, bathrooms, and other smaller decorating areas. You can watch the full DIY here. 
Here's a closer look at some of my favorite DIY Spindle Mini Christmas Trees. The spindles were painted (heavy drybrush, 2 coats) in Dixie Belle's Silk All-in-One Mineral Paint, in the color WhiteCap. 
Some of the spindles had holes in them, where a chair rung would previously been. I turned these into little birdhouses in my tree stands. I didn't fill any holes, or do any repairs. If they had odd openings, I kept them, as it added to the rustic effect. 
I'll be selling these for $7.95-8.95 in my vintage market booths. We have 9 Fall and Christmas large events in 2023, so I'll probably be making 100 or more of these throughout the next few months!
If you love our ideas, please check out our YouTube Channel.
Follow us on Facebook.com/vintagebeedesign
Instagram.com/vintagebeedesign
and Join our community Facebook.com/groups/creatingthehive