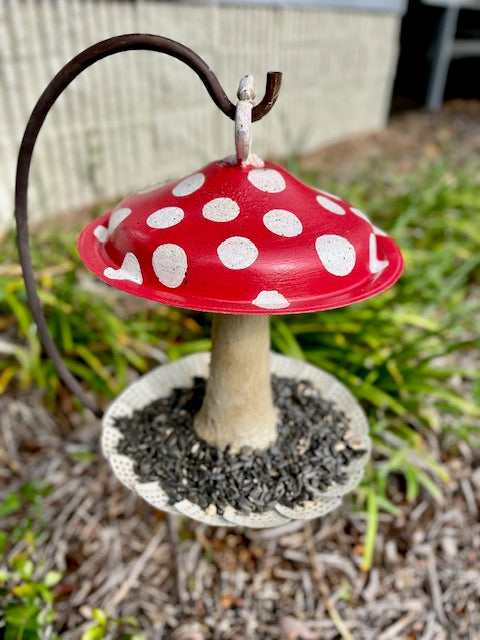 Thrift Flips for Profit: Making Birdfeeders out of Thrifted and Found Objects | Mushroom ALERT!
Thrift Flips for Profit: Making Birdfeeders out of Thrifted and Found Objects | Mushroom ALERT! 
As Sue and I struggle to get through a 10x30 storage unit full of items from house cleanouts , thrift hauls, and estate sales, we've started running across weird odds and ends. The choice of being a hoarder, and keeping it all - you know, just in case - and having a clean and productive workspace, is an inner (and sometimes outer) fight. Thankfully, Sue took the lead on going through boxes and coming up with some really clever ideas. 
Market Inspiration takes shape, as birdfeeders.
At the spring Vintage Market Days in Perry, GA, Sue was inspired by a birdhouse maker. See the 15 second clip of our video showcasing this fabulous booth below! 
Since then, she's been looking at all the bits and bobs she finds in boxes, in the yard, and everywhere else, very differently. 
Pinterest Inspired: Starting small, with coffee cup and saucer. 
Sue decided to start off her first Pinterest inspired project by taking a pair of coffee cups, found in our craft stash, and making a simple bird feeder. 
This quick and easy project inspired a larger bird feeder project, out of scrap junk found in our thrift stash. 
Trash to Treasure Mushroom Bird Feeder
Sometimes when you thrift pieces, like a silver casserole dish with lid, you end up with leftover pieces, that are seemingly useless. These end up in our junk stash, which can start to feel a bit like a hoard. Thankfully, Sue was in the making mood, and made one of her best projects yet!  
This mushroom bird feeder is simply adorable! Painted with DIY Paint's Carnival Red, the bright pop of color, really catches your eye!  The base and stem are painted with Fusion Mineral Paint's Putty, a natural warm taupe. Texture, on the stem, was created with a couple of layers of SaltWash. and Fusion Putty. To handle the outside weather, 2 coats of DIY Paint's Big Top were added, allowing each layer to dry in between. 
It was then given a little rustic goodness with flecks of Fusion's Coal Black, and a rich coat of Fusion Antiquing Glaze. 
It's these small details that really bring your DIY home decor projects to the next level. Seriously, look at the detail of that mushroom "stem"! 
Creating DIY Garden Decor from thrifted junk
If you are one of those thrift store haul junkies, then projects like this should make you very happy! The items used here are often $1 or less. 
If you want to see the tutorial on how these projects, along with other great thrift flips, watch the video below: 
Follow us on Social Media!

https://Facebook.com/vintagebeedesign

Instagram.com/VintageBeeDesign

Join our group: Facebook.com/groups/creatingthehive

Join Melissa's Business Coaching Group:

https://vintagebeedesign.com/products/beyond-creativecon-monthly-coaching-program
Shop Vintage Bee Booth at Great American Antique Mall, 9365 Philips Hwy Suite 114, Jacksonville, FL 32256