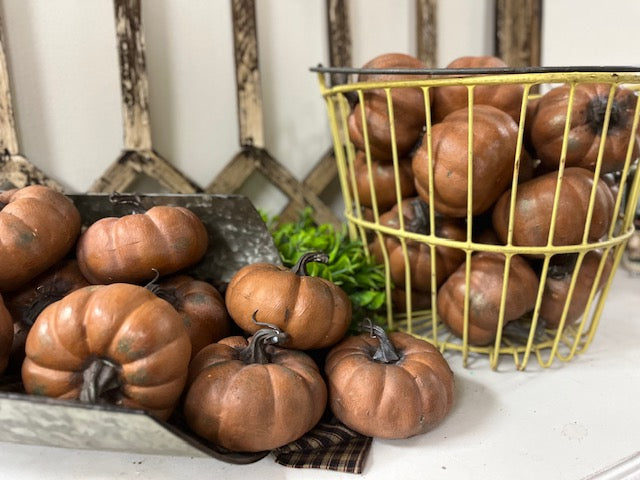 How to make Styrofoam, Thrifted, or Dollar Tree Pumpkins look like High Fall End Home Decor
How to make Styrofoam, Thrifted, or Dollar Tree Pumpkins look like High Fall End Home Decor
I can't believe that tomorrow is August 1, 2023! It seems like the year has raced past. With such a hot summer, I'm ready for fall home decor, that may at least fool me into thinking things are cooling off here in Jacksonville, FL. With Vintage Market Season starting in only three weeks, I'm pulling out my previously thrifted items, scrap wood & spindle pile to see what fun fall projects I can complete.
Watch my YouTube DIY home decor tutorial, above, on this and other projects.
Vintage Market Days is only 3 weeks away. It's production time!
Our first big fall market is Vintage Market Days in Perry, GA, August 18, 19, and 20, 2023. We have a 10' x 40' space. We'll actually travel to Perry on Tuesday that week, and spend 2 days setting up for the weekend event. What that really means to us is only about 10 days left of actually getting product, to sell, completed. 
Pumpkins and gourds are always good sellers for us. Last year I bought several bags of the white vegetables and now I'm going to give them a little makeover. To create great texture, removing the look of cheap styrofoam, I started painting these by mixing Fusion Mineral Paint's Pressed Fern with SaltWash Paint Additive, in a light, pouncing way. I then added my own color blend that I call, "Pumpkin Spice". It's a mix of DIY Paint in the colors Fire Starter and Layered Chocolate. Summer Crush would also be a good substitute for Fire Starter. My goal is to create a vintage style dark pumpkin color, something a little more on the brown side. 
Using clear, white, brown, and lucky emerald waxes added a ton of texture and dimension to my pumpkins, making them look very realistic. It's hard to believe they are styrofoam. 
As I previously said, this bag also had gourds, so I wanted those to look more realistic as well. I started with the same Pressed Fern + SaltWash layer. After that had completely dried, I created another special mix, using DIY Paint's Liquid Sunshine and Crinoline. This not only softened the very bright yellow, but also had the benefit of creating a color with better coverage. Yellow rarely has good coverage. 
Another great way to add texture to styrofoam pumpkins is to apply a LITTLE BIT of heat, from a heat gun. This will bubble up the foam and, after waxing, give the appearance of the warts often seen on varieties of pumpkins, and maybe even some "soft spots". Of course, you need to be sure to to not overdo the heat, as they can melt or even catch on fire! If you are very careful, you can get some really cool effect though. 
Thanks for stopping by. If you enjoyed this content, be sure to follow us on other social media platforms, including YouTube! You can also shop for seasonal home decor here. 
Facebook.com/VintageBeeDesign
Instagram.com/VintageBeeDesign
YouTube.com/@VintageBeeDesign
Join our DIY home decor group at Facebook.com/groups/Creatingthehive