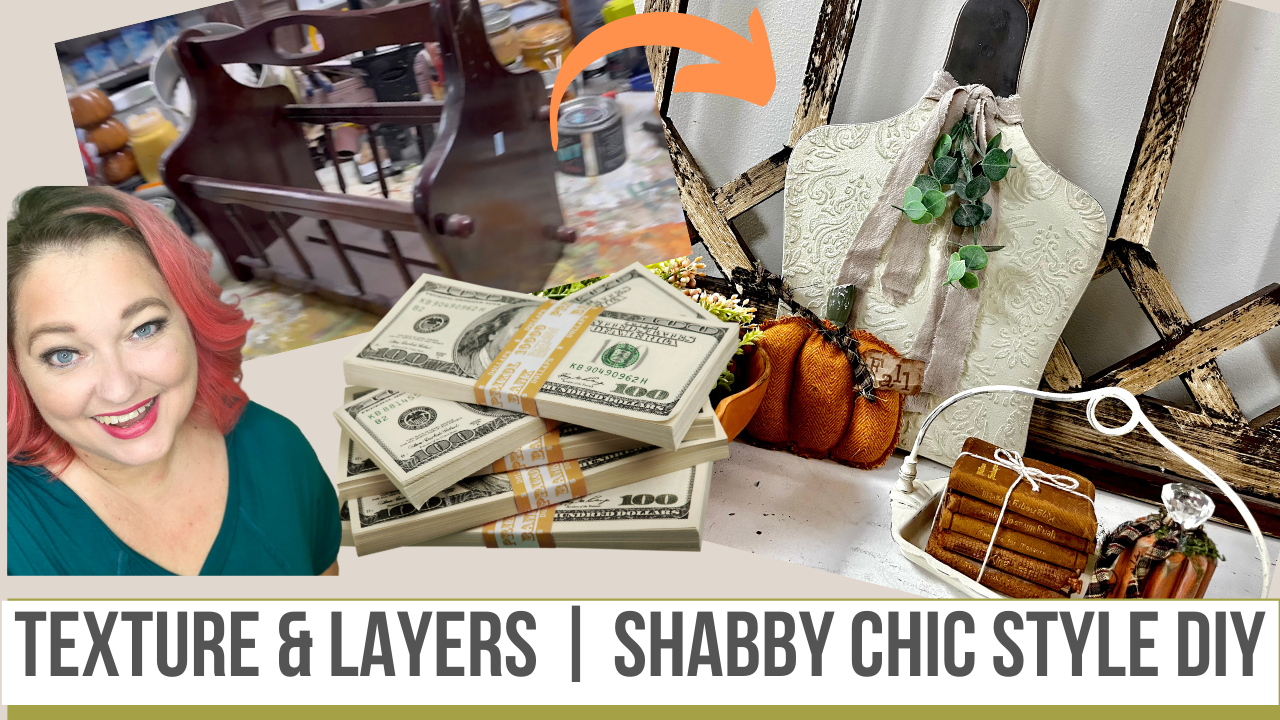 Upcycling an old magazine rack into fabulous fall home decor | DIY Trash to Treasure Thrift Flip for Profit
Upcycling an old magazine rack into fabulous fall home decor | DIY Trash to Treasure Thrift Flip for Profit
We have SO MUCH in our thrift flip stash. I've been trying to work through it all, methodically. When looking through it recently, I realized that I had this magazine rack, that had been on a high shelf for month. When I say months, I really mean 16-24 months. I wish I were kidding, but sometimes the stash overwhelms you. Anyway, as soon as my eyes ran across it, my brain yelled, 'PUMPKIN!' 
Turning a magazine rack into a Fall Home Decor
Magazine Racks are commonly found in thrift stores as many people read their magazines online today. Digital format has made some commonly used vintage home decor relatively obsolete. Finding new ways to update them or upcycle them to keep them out of landfills, is one of our primary goals when thrifting. 
Creating a Raised Stencil for additional interest on your DIY Decor
One of my favorite parts of this project, had to be doing the raised stencil. The additional dimension and interest that it provides, is simply fantastic. Best of all, by choosing a pre-made textural product, like Rust Effects (mint), by Redesign with Prima, instead of mixing paint with Saltwash texture medium, it was fast and easy!  I chose the Renata stencil by Prima because it has a beautiful, traditional pattern, perfect for this project, and I really like the size, allowing me to do both pumpkins without having to clean in between. 
It is important to let the texture medium completely dry before painting over it. For me, I let it sit overnight, then decided, I had enough orange, in my fall home decor, so I went with DIY Paint's Crinoline. Crinoline is a soft warm off-white, perfect for fall home decor. 
After all paint was completely dry, giving the pumpkin a pretty thorough distress, first with a damp rag (often called a wet distress) and then some 220 grit sandpaper, allowed the raised stencil to really shine. The minty green peeking through the warm white, created detail that really makes your work stand apart. Waxing, with DIY Paint's clear wax, then just a touch of dark wax, around the edges, finished the warm white farmhouse style pumpkin perfectly!
I added a fabric ribbon and a little greenery to make the stem transition a little more appealing. It was the perfect touch because it also added more texture and dimension.  
Decorating for Fall, with DIY Home Decor from the Thrift Store
As you can see, creating fabulous fall DIY home decor, doesn't have to be expensive. Being able to look past the current status of something, to see the bones, or shapes, of what something is allows you upcycle, the ordinary and outdated, into something fantastic that will be loved for years to come! 
If you loved this project, be sure to check out our YouTube Channel for more DIY Home Decor, Thrift Flips, French, and Cottage Country decor. Check out the video, above, for more Fall projects that you can recreate. 
Shop, our booth, in Jacksonville, FL at Great American Antique Mall
Follow us on Facebook.com/vintagebeedesign
Join our creative group at Facebook.com/groups/creatingthehive
Follow us on Instagram.com/vintagebeedesign