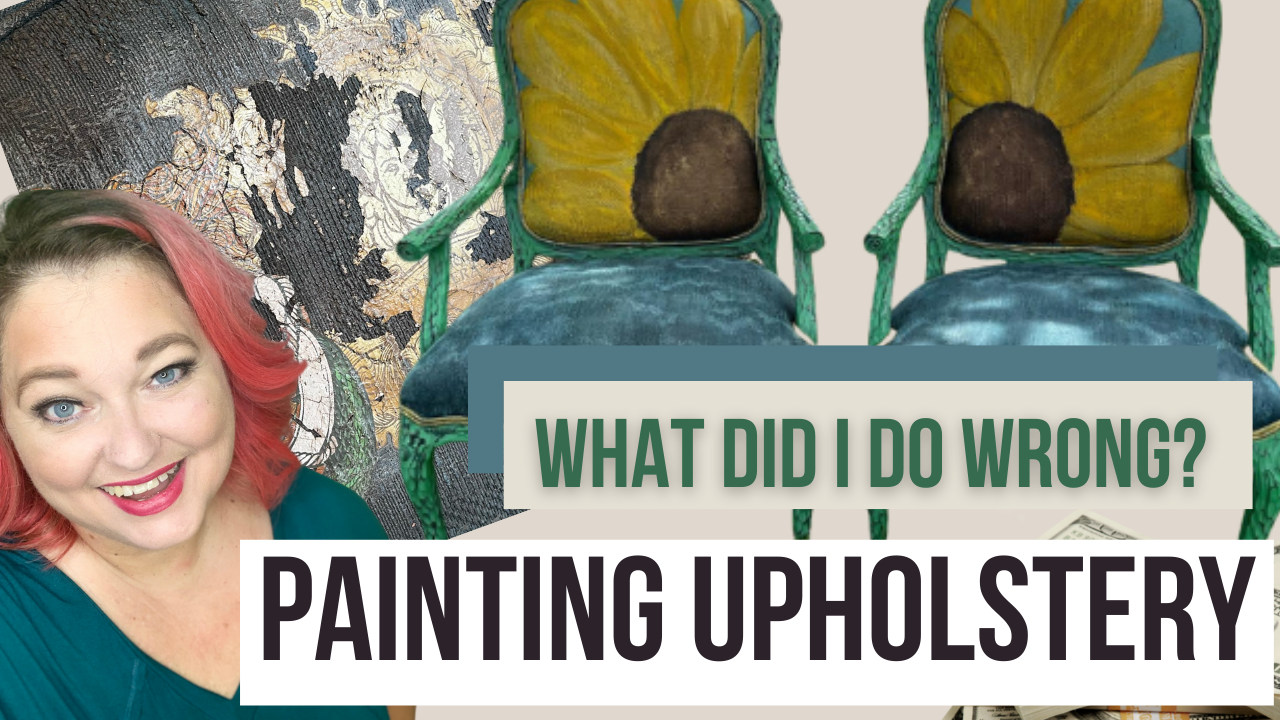 How to paint fabric chairs with DIY clay paint (and keep them soft too!)
How to paint fabric chairs with DIY clay paint (and keep them soft too!)
Have you ever seen photos and videos online of artists who paint fabric chairs and/or sofas, they look incredible, but whenever you've tried, they are more crunchy than soft? In today's video, Melissa Marro, will show you how to use DIY paint products to transform boring dirty beige upholstered chairs into amazing one of a kind pieces! 
You don't actually paint upholstered chairs, you dye them! 
The key to keeping fabric soft, when painting upholstered chairs is that you actually need to dye them, not paint them. This is one of the reasons DIY paint is perfect for this project. DIY paint is heavily pigmented, and so even when watered down, it has amazingly rich colors! 
As it turns out, pigment is the most expensive part of creating paint, which is why so many paint companies skimp on pigment. Watering down DIY paint with at least a 2:1 ratio, allows for a deep rich dye, while keeping the ease of painting. 
How to keep painted upholstery from rubbing off on your clothing
While DIY paint is perfect because of it's heavy pigment, a less great part of the dying process is that it also reactivates when it's wet, unlike most chalk or acrylic paints. This means that at some point you will need to seal the paint into the chair. 
Debi Beard, creator of DIY paint, recommends that you use a sanding sponge and watered down liquid patina as an additional coat, over the entire piece. Working it into the fibers, the same way that you did the DIY paint. 
For my piece, I mixed the liquid patina (top coat) into my paint and water mixture in the 2nd and 3rd coats of paint. I also made sure to sand between layers, since my fabric was feeling rough. This softened it between layers and allowed each layer of DIY paint: liquid patina: water to fully absorb into the upholstery. 
Ensuring a soft finish after you are done painting
While this next step may not be a requirement, because I'm also accustomed to painting upholstery with Fusion Mineral Paint (which tends to create a pleather or leather feeling on upholstery) and Dixie Belle Chalk Paint, I feel the need to take one more precautionary step. That step seems unconventional, but it really works, at least on more dense fabric without any pile. I work in, with a dense hard bristle brush, 2 more coats of a wax coating. I doubt this would be as successful on plush fabrics like velvet, but on dense fabrics like cotton muslin, it really becomes effective at keeping the rough fibers soft. It has the added benefit of also making it a bit water resistant. 
Interested in checking out more upholstery painting videos? 
If you want to learn more about painting upholstery with DIY Paint Products, why not check out some of Debi's Beard's videos below.