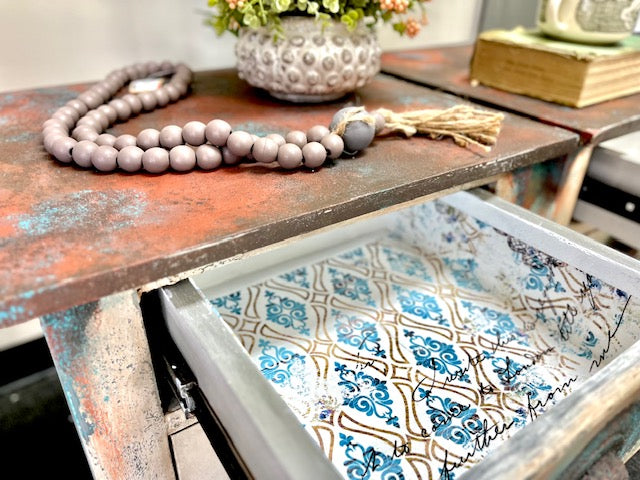 DIY Painting Tips: Creating a Copper Patina on Thrifted Home Decor
DIY Painting Tips: Creating a Copper Patina on Thrifted Home Decor
This week I decided that I would try some products that Vintage Bee Design has carried for a while, but I haven't really had the opportunity to play around with. Dixie Belle's Copper Patina and DIY Paint's Shipwrecked Verdigris Wax. Copper Patina has become a really big trend in the DIY home decor space, duping pieces from larger and more well known stores like Anthropology. 
Take this Mod Reactive Sideboard, listed for $1998, for example. 
Creating Smaller DIY Home Decor Pieces with Copper Patina Finish
There are several different methods to achieve this look. The most common is to use harsh smelling chemicals that are usually either ammonia or vinegar based, like Dixie Belle's Patina Spays. These, when used with paint that has real bits of metal, imbedded inside, create the most realistic version of this look. What if you don't want to use harsh chemicals like these? Can you really achieve this look? 
These side tables were created with Redesign with Prima Rust Effects. These are ammonia and vinegar free alternatives to patina sprays. The drawers are lined with Distressed Deco decoupage paper, also by Redesign with Prima. 
Yes! You absolutely can. Here are some ideas that will help guide you through the process. Depending on the look you desire, you should be able to adjust appropriately to give you the perfect dupe! 
The DIY Anthropology Home Decor Dupe is all about texture! 
Texture, Texture, and more texture is the name of game in today's interior fashion trends. Mixing metals with concrete looks, create a nature vibe that is both organic, high end, and a little institutional. The products that can best help you create all the texture you desire are: SaltWash Paint Additive, Sea Spray by Dixie Belle Paint, and Rust Effects by Redesign with Prima. If you want to make money painting and selling furniture today, you'll need at least a couple of these in your paint arsenal.
I've created a couple of DIY Home Decor Videos to showcase exactly how you can recreate these looks. 
In the video, above, I showcase two different copper patina painting techniques on smaller thrift flip home decor. In the video, below, I'm showcasing similar techniques applied on side tables. Thrift flips are always great ways to experiment on all of the varieties of techniques without breaking the bank. 
Rust and Rustic Metals, including Copper, are HUGE this year.   
It doesn't take but a few minutes in a Google search to see just how BIG rustic, texture, and rusty metals are in 2023. If you love home decor, it means you could pay big bucks for them. If you sell home decor, it means your customers may pay big bucks for them! If you do DIY, for your own home, it means still having the latest trends, while keeping your bank account intact. 
Copper doesn't have to be rustic and chippy to be beautiful.
If you crave the copper patina look, but don't love the chippy rusty effects, then consider a more elegant patina option. 
Many of the same techniques were applied to create this upcycled bowl of fruit, that looks more like aged copper, with just a hint of turquoise patina. You can watch this DIY Paint Tutorial to see how I created this look. 
These pieces were painted with Hampton Olive, a color in Dixie Belle's Silk, all-in-one line.  After drying, I used DIY Paint's white wax. (My favorite was because it's so soft & easy to use.) Then copper gilding wax, by Dixie Belle, was added, and finally a very wispy layer of DIY's Shipwrecked Verdigris Wax.  
If you love DIY Paint transformations, be sure to follow us on other social media channels. 
https://Facebook.com/vintagebeedesign
Instagram.com/VintageBeeDesign
Join our Facebook community. 
Join Melissa's Business Coaching Group 
Shop Vintage Bee Booth at Great American Antique Mall, 9365 Philips Hwy Suite 114, Jacksonville, FL 32256