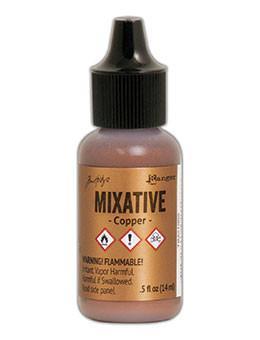 Tim Holtz Metallic Mixatives Alcohol Ink
Acid-free, fast drying transparent coordinating Earthtones, Lights and Brights dye inks specially formulated to create a colorful, polished stone effect. Use on glossy paper, dominoes, metal, shrink plastic, glass, and other slick surfaces. Metallic Mixatives™ are luminous, fast drying, acid free inks, specially formulated to create metallic highlights when combined with Alcohol Inks. Use them on all non-porous surfaces such as light or dark gloss paper, dominoes, glass and other slick surfaces.

Alcohol Blending Solution is available for lightening colors and cleaning inks from non-porous surfaces.
Use the Tim Holtz® Alcohol Ink Applicator to apply Alcohol Inks to paper and other surfaces. Use the Tim Holtz® Alcohol Ink Fillable Pen to create custom Alcohol Ink markers for doodling, journaling and coloring.
Note: Ranger does not recommend using Tim Holtz® Alcohol Inks, Metallic Mixatives, Snow Cap Mixative or Alcohol Ink Blending Solution in spray bottles as these contents contain alcohol and should not be airborne.