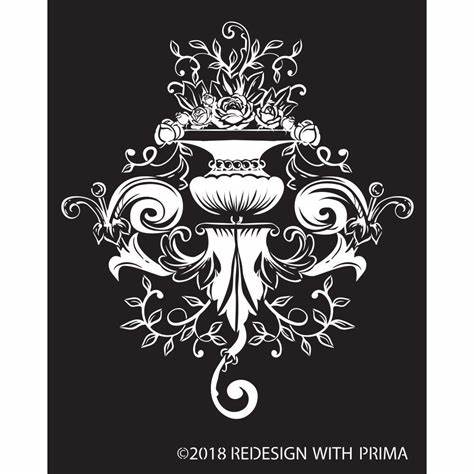 Darcelle Regal Silk Screen Stencil
8" x 10"
Darcelle Regal Silk Screen Stencil by re-design Prima for home decor, scrapbooking, mixed media, furniture, walls, canvas, textiles.
use's : use with your favorite paint, or our redesign chalk paste! to enhance your project. Apply to mulitple surfaces and reuse this stencil. Decorate Pillows and Table Runners and Chargers, Furniture and Mixed media to Canvas and Scrapbooking!
Dont forget to Purchase a set of SPREAD PALS! also sold in shop.
Measurements of SILK SCREEN STENCIL 10" X 8"- DESIGN MEASURES 9.50"L x 7.5" W Darcelle Regal
check out utube for great inspirational videos!
EASY TO FOLLOW INSTRUCTIONS:
1. To begin, make sure the surface you are using is free of debris and clean. Peel the silkscreen stncil off the backing.
2. Apply the stencil to your desired surface, lining it up accurately for proper application.
3. Gently press down on the stencil, using your favorite medium and a Spread-Pal, apply the medium or Chalk Paste thru the stencil.
4. Carefully peel back the stencil.
5. Reveal teh beautifully detailed design! To protect and extend the life of your design, seal it with a clear wax.